Gesundheitszentrum Park Igls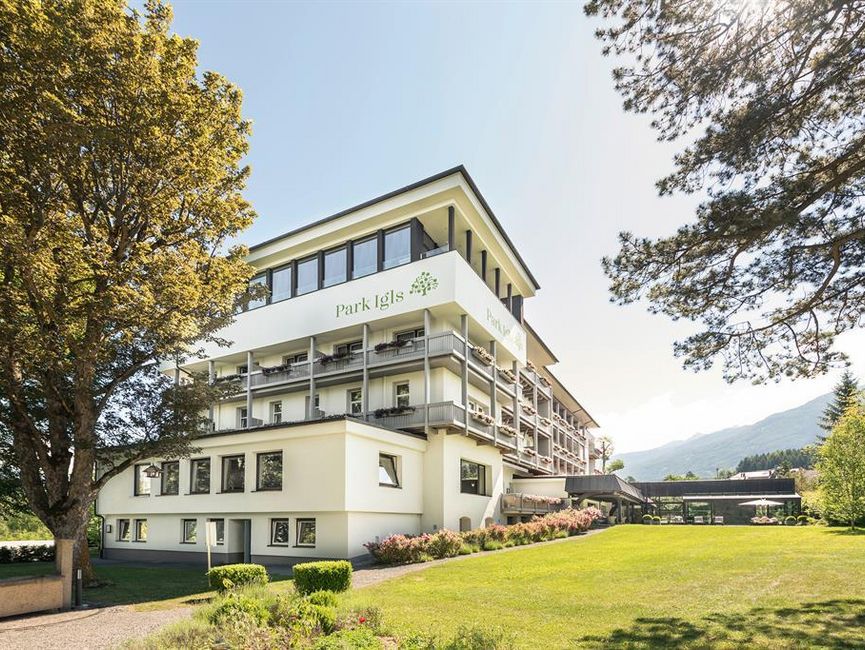 Welcome Card Partner
Infos
Igler Straße 51a , 6080 Igls

Health and safety measures
Accommodationdescription
Trailblazer in Modern Mayr Medicine, the Health Retreat Park Igls - situated on a high plateau just above Innsbruck - is an internationally recognised pioneer in bringing together conventional and complementary medicine, providing exceptional facilities, diagnostics and thorough round the clock care. Energy levels and lasting overall wellbeing are markedly improved through healthy nutrition, individually devised exercise plans and a gentle regeneration. Following an initial medical check-up, the physician and the guest discuss and draft a personalised programme for the duration of the stay, a blueprint for a sustainable therapeutic strategy. This holistic approach focuses on detoxifying the digestive system - recognised to be a vital prerequisite for keeping fit and healthy. Subject to the main goals and aims of the treatment, guests can choose amongst a variety of treatment modules, which they may augment with additional specialised medical check-ups. All 42 comfortable rooms and 9 suites benefit from a private balcony and stunning panoramic views. Facilities include an excellent medical department, a superb Spa with indoor pool and textile sauna, light flooded lounges and an expansive natural park. provide ample space for relaxation. Also available are spacious relaxation areas, gymnastic- & fitness rooms for Kybun® training and the exclusiveTheMedGolf® institute. One of the cornerstones of the Modern Mayr detox therapy is our delicious, high energy diet cuisine - based on local organic produce and supported by latest scientific findings. Modern Mayr cuisine comprises an 8-step diet plan and surprises with highest culinary standards. With our recent double whammy of top international awards - Condé Nast Traveller magazine annual Readers' Travel Awards 2013 'Best Destination Spa' and Tatler Spa Guide 2014 'Best for Medical Marvels' - the Parkhotel Igls' reputation as a leading destination health retreat.
Health and safety measures regarding Covid-19:
The accommodation provider is responsible for the Covid-19 safety measures detailed here. The measures shown here were specified by the accommodation provider, Innsbruck Tourismus (the Innsbruck Tourist Board) does not accept any responsibility for their accuracy.
Security food & beverage (4)
Served breakfast
Compliance of distance in all food areas
All plates and dishes, cutlery, glasses are disinfected
Served buffet
Distance rules (5)
Non-cash payment possible
Separation or physical barriere between staff and guests in corresponding areas
Distance rules are kept
Contactless checkIn/checkOut
Min. distance between tables and seatings or distance by separators
Hygiene and disinfection (10)
Laundry is washed at highest temperature that is allowed by producer
Room cleaning includes ventilation, change of cleaning tissues and disinfection of gloves after every room
Checklists how to clean rooms - during stay and after departure
Bedlinen, towels and laundry are washed according to rules of local authorities
Usage of cleansers that are effective against Corona Virus
Disinfection of often touched items and surfaces
Disinfecting of rented equipment
Rooms are cleaned most thoroughly after every guest departure, in particular often touched items
Guests may ask for no room cleaning during their stay
Regular ventilation of commonly accessible areas
Security measures (9)
Access to skilled physicians
Well visible stand-up display with Covid19 rules in front of entrance
Reduced number of participants
Procedure for health checks of guests available
Disinfectant for hands in accommodation and common rooms
Surgical mask for guests available
Staff follows all security rules of the local authorities
First aid kit available
Clinical thermometer for guests provided by accommodation
Staff (4)
Regular Covid19 tests for employees that have direct guest contact
Sensitizing of employees to meet min. distance rules
Employees wear surgical masks
Employees are informed about prevention and hygiene measures and correct behaviour when Covid19 symptoms or infections appear
Contact tracing (2)
Registering of guest contact data at the checkIn that may be relevant in case of infection - when guest agrees
Storing of staff roster for four weeks
Facilities
Facilities / Services (7)
boutique
underground garage
car parking lot
WiFi
park
bicycle parking space
own garden
Sports / Leisure time (1)
Staff (4)
Regular Covid19 tests for employees that have direct guest contact
Sensitizing of employees to meet min. distance rules
Employees wear surgical masks
Employees are informed about prevention and hygiene measures and correct behaviour when Covid19 symptoms or infections appear