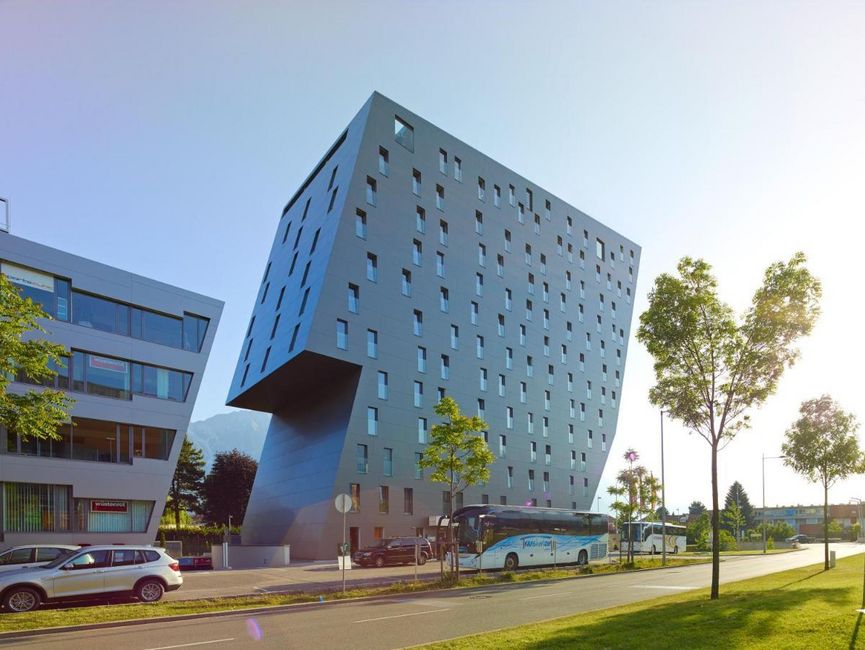 Welcome Card Partner
Infos
Olympiastraße 41 , 6020 Innbruck

Health and safety measures
Accommodationdescription
This hotel is one of the tallest buildings in the city and provides a comfortable place to stay with warm and friendly service. The terrace on the 11th floor offers breathtaking panoramic views of the Tyrolean mountains and the world-famous Bergisel ski jump. This means you can enjoy your favourite drink above the rooftops of one of the most beautiful cities in the Alps! The seminar rooms are also high up, providing a wide horizon and great views for up to 80 conference guests. The hotel has an in-house sauna area for relaxing, a bistro bar that serves a small range of nice dishes every evening and an underground car park with 57 parking spaces that can be booked for a surcharge.
Health and safety measures regarding Covid-19:
The accommodation provider is responsible for the Covid-19 safety measures detailed here. The measures shown here were specified by the accommodation provider, Innsbruck Tourismus (the Innsbruck Tourist Board) does not accept any responsibility for their accuracy.
Contact tracing (3)
Usage of health- or tracking apps is recommended
Storing of staff roster for four weeks
Registering of guest contact data at the checkIn that may be relevant in case of infection - when guest agrees
Hygiene and disinfection (12)
Accommodation is disinfected between every guest stay
Regular ventilation of commonly accessible areas
Disinfection of often touched items and surfaces
Laundry is washed at highest temperature that is allowed by producer
Checklists how to clean rooms - during stay and after departure
Room cleaning includes ventilation, change of cleaning tissues and disinfection of gloves after every room
Bedlinen, towels and laundry are washed according to rules of local authorities
Accommodation is cleaned by professional cleaning company
Guests may ask for no room cleaning during their stay
Usage of cleansers that are effective against Corona Virus
Rooms are cleaned most thoroughly after every guest departure, in particular often touched items
Disinfecting of rented equipment
Security measures (11)
First aid kit available
Distance lettering on bottom in critical areas
Surgical mask for guests available
Disinfectant for hands in accommodation and common rooms
Clinical thermometer for guests provided by accommodation
Staff follows all security rules of the local authorities
Reduced number of participants
No commonly used writing utensils such as menus, journals, pens, paper...
Well visible stand-up display with Covid19 rules in front of entrance
Entrance regulation for critical frequency (e.g. key, display, coins, wristlets...)
Procedure for health checks of guests available
Staff (4)
Sensitizing of employees to meet min. distance rules
Regular Covid19 tests for employees that have direct guest contact
Employees are informed about prevention and hygiene measures and correct behaviour when Covid19 symptoms or infections appear
Employees wear surgical masks
Security food & beverage (6)
One-way gloves for guests at the buffet
Compliance of distance in all food areas
Delivered food is packed in secure mode
All plates and dishes, cutlery, glasses are disinfected
Served breakfast
Separators between buffet and guests
Distance rules (3)
Non-cash payment possible
Distance rules are kept
Separation or physical barriere between staff and guests in corresponding areas
Facilities
Facilities / Services (21)
air conditioned
breakfast service
pets welcome
disabled washroom
24-hour reception
central reception office
bistro
non-smoking house
smoke detectors
breakfast room
terrace
underground garage
WiFi
café
lift / elevator
luggage storage
disabled accessible
night porter
EV charging station
information on the region
new building
Staff (4)
Sensitizing of employees to meet min. distance rules
Regular Covid19 tests for employees that have direct guest contact
Employees are informed about prevention and hygiene measures and correct behaviour when Covid19 symptoms or infections appear
Employees wear surgical masks
Meetings / Conferences (11)
number of meeting/seminar rooms
video projector
non-smoking meeting room
screen
dimming
meeting service
flipchart
conference rooms
WiFi
meeting/seminar rooms for max. pers.
blackboards / white boards / metaplan boards
Sports / Leisure time (1)
Payment methods (4)
EC-Cash/Maestro
credit cards accepted
cash payment
advance payment
Suitability (4)
families
person traveling alone
business travelers
non-smokers
Meals (2)
breakfast buffet
breakfast