The devils are on the loose!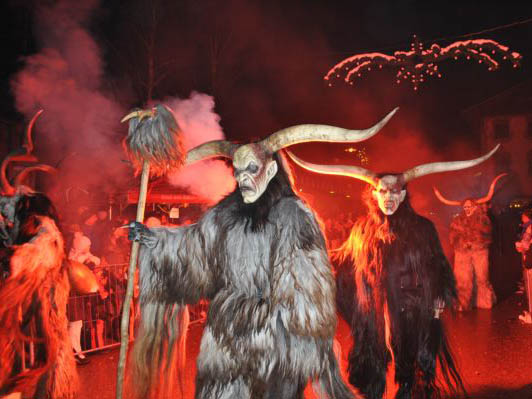 The Tuifltag (Day of the Devils) is a traditional event that sees St. Nicholas come to the village of Axams with Krampus (demon-like creatures from Alpine folklore) in tow. The event is traditionally held in Axams on 5 December and is well worth a visit. St. Nicholas leads the way from approx. 6 pm with gifts for children big and small. From approx 7.30 pm, all hell literally breaks loose when the "Tuifl" make their grand entrance dressed in shaggy costumes with creepy, ornately carved masks.
Fire, smoke and scary stories
The smallest and youngest members of the Tuifl Association kick off the action and then the "large Axams Tuifl" arrive to join in the mischief. The traditional parade in Axams is renowned for its special features and use of fire, smoke and lighting effects. The devilish action and sinister creatures are accompanied by mystical music and eerie, mysterious stories. But visitors don't need to be afraid – the Tuifl won't hurt you, they're just an impressive sight to behold.
Delicious delights on "Tuifl-Tag"
Visit Axams and experience this age-old custom first hand. The delicious treats from the village square and the bandstand are all part of the traditional Axams Tuifl experience. Enjoy hot punch, mulled wine and refreshing drinks with hot sausages, chestnuts and many more hearty Tyrolean delicacies.