Passion crib in the church of Götzens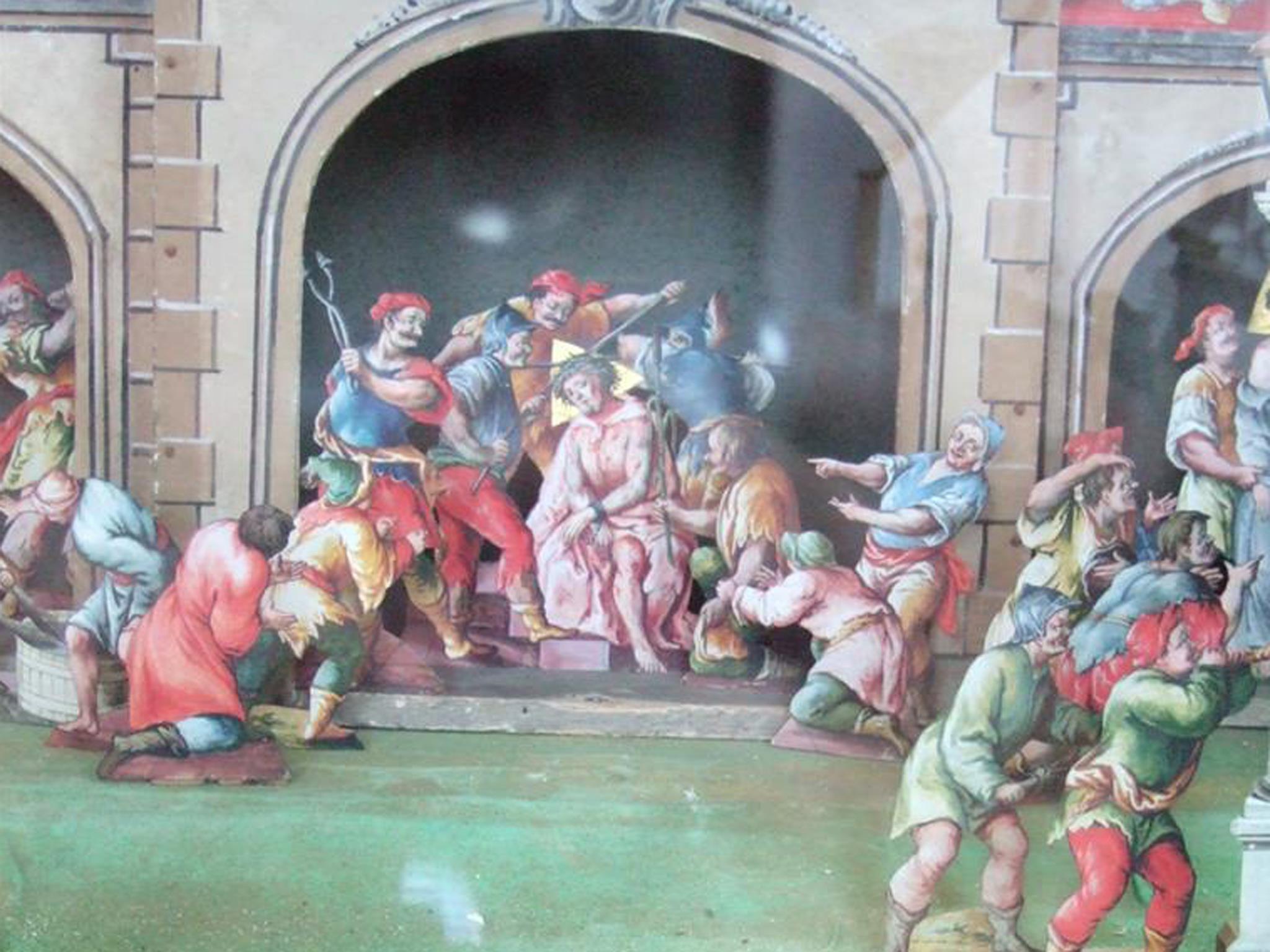 Opening Hours
Before easter
This masterpiece in the parish church dates back to around 1800 and features a truly impressive scene full of detail and quality. Passion cribs, unlike their Christmas counterparts, celebrate a much more brutal, bloody and emotional event: the Passion of Christ. They depict images that touch visitors' emotions and make astonished churchgoers truly aware of the importance of this unique event never to be repeated.
Immediately after the traditional grand Tyrolean Easter plays, the cribs become places of meditative observation but without the option of physical catharsis that was once "enjoyed" by flagellants and self-torturers. The drama and emotion of the events involved in the Passion of Christ are reflected in the drama and emotion of the scenes and images used to tell the story today. The crib in Götzens features more than 250 painted paper figures, each with a height of 16–18 centimetres. The figures were made by Georg Haller (1772-1838) and are displayed in a historically well-established crib scene by Franz Eigentler (from around 1912) with a backdrop by Franz Pernlochner (from around 1913).
The crib features thirty-five individual scenes that are both dramatic and moving. It starts with Jesus Christ bidding farewell to his mother and his disciples and goes on to present scenes of betrayal, torture and trial before reaching the climax: the Crucifixion. The Resurrection itself, the crowning moment of the entire process of redemption, is recreated in scenes featuring the Descent from the Cross, the Entombment of Christ and finally the figure of the victorious resurrected Christ taking centre stage.
A particularly striking element of the crib in Götzens, however, is the special attention paid to the figure of Judas. Alongside Jesus Christ, he makes the most (a total of five) appearances: the betrayal of Judas, the kiss of Judas, the 30 pieces of silver, the despair of Judas and his remorse, which ultimately led to his suicide by hanging. His suicide in particular is narratively emphasised by the appearance of devils in the form of animals, accompanying him to his death. One of these animals is a cat-like creature holding the bag containing the 30 pieces of silver, depicting Judas as a tragic figure who is unfortunately often misconceived in theological terms given his importance as a driving force behind the story of redemption.
If you are planning on visiting the Passion crib in Götzens, be sure to allow enough time for your visit. A quick glance simply isn't enough for this complex masterpiece. It's also a good idea to take the New Testament with you or give it a read before you go – many visitors with average Bible knowledge are hopelessly overstretched by the multitude of images presented!
The Passion crib in Götzens can be viewed in the parish church from Ash Wednesday until Easter.


read moreread less
Map