Bold women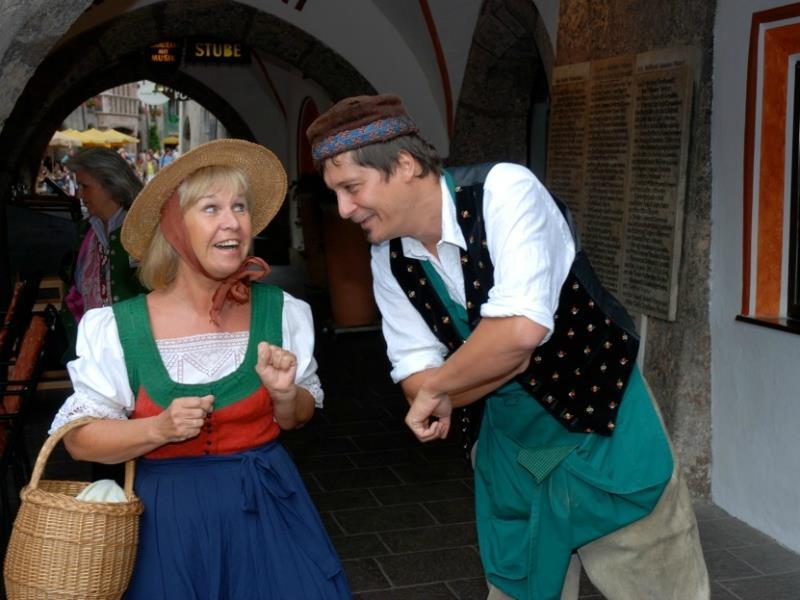 Guided tour in period costumes:
This tour takes you on a journey to the year 1809. Experience the dramatic events surrounding the Tyrolean fight for freedom at the location where it actually happened – Bergisel. The Third Battle of Bergisel took place here and is now remembered in the new Tirol Panorama Museum.

The enlightened pro-Bavarian population of Innsbruck comes face to face with rural Tyroleans who are ready for battle. The lively dialogue gives an insight into both the Bavarian and Austrian perspectives while the quotes and costumes create an authentic atmosphere.
Experience the inquisitive market woman, the shrewd innkeeper, the Bavarian officer, the Mayor of Innsbruck's aristocratic wife, the vulnerable French soldier and famous Baroness Sternbach. Freedom fighter and local hero Andreas Hofer doesn't appear in person but he still plays an ever-present role in this theatrical guided tour. Do you like to experience history in a relaxed and amusing way, told from today's perspective? This is the tour for you.

Meeting point: the Andreas Hofer monument at Bergisel
When: on request
Prices available on request

Available for groups on request

Reservations and information:
Per Pedes Stadtführungen, Burggraben 3, 6020 Innsbruck, Austria
office@perpedes-tirol.at • Mobile: +43 664 433 9419
read moreread less
Map