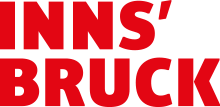 Indoor swimming pools in the Innsbruck region
Swimming and bathing when the weather is bad or in winter? Not a problem in and around Innsbruck. A visit to an indoor pool ensures bathing fun regardless of the weather, while outdoor pools and water slides add to the fun, and saunas and spa areas help you relax. For families, the pools provide children's areas. Opening times, contact details and further information can be found below.
Can we help? Contact us.
Innsbruck Tourismus
Mo - Fr: 8.00 am - 5.00 pm
Innsbruck Incoming
Mo - Fr: 9.00 am - 5.00 pm
Tourismus Information, Ticket Service
Mo - Sa: 9.00 am - 6.00 pm
Su: 10.00 am - 4.30 pm