24 February 2016
Post originally written in:
English
Innsbruck delivers the ultimate family snow holiday, with nine ski resorts to explore, including one where you can sleep in an igloo.
A ski or snowboard holiday in Innsbruck will have you following in the footsteps of champions, with this stunning city hosting the Winter Olympics on two occasions – 1964 and 1976 – as well as the first ever Youth Winter Olympics in 2012. Fittingly, the ski region here is called Olympia Skiworld, with one pass linking nine ski areas – Axamer Lizum, Patscherkofel, Muttereralm, Nordkette, Rangger Köpfl, Kühtai, Schlick 2000, Stubai Glacier and Glungezer – offering a combined 300 kms of snow-white runs.

You can stay in Innsbruck and do day trips to various resorts, or stay in one of the quaint villages close by. For example Igls is at the base of the Patscherkopfel, Mutters is at the base of Mutteralm and Axams is near Axamer Lizum. In Kühtai's case, you can stay in the heart of the resort with most accommodation ski in ski out. When we stayed there, we could ski to our lounge room door! The other good news is that there is a free ski bus that goes from Innsbruck to all the other resorts. All you need is a guest card which you can pick up from your hotel at no cost. If you are determined to try all nine ski resorts, you can purchase an Olympia World Ski Pass.
Nordkette
For locals, you can be at work in the city and be skiing in Nordkette within 20 minutes – not many cities can claim that. For visitors like us it is just as convenient because if time is tight you can always make time to head up to see the incredible views from the world of white.
Nordkette is accessed by the very high tech Nordkettenbahnen funicular railway, which whisks you from the centre of town up to the Hungerberg. From there, onwards and upwards in a cable car to the Seegrube, where the main attractions are SkylinePark – a terrain park and superpipe – a terrace offering outstanding views, a kids ski area, the Alpenlounge restaurant, and the Cloud 9 igloo bar, usually open from 20 December to early April. To really hit the heights, go up the next leg of the cable car to Hafelekar, at a lofty 2256 metres. The Karrinne run down from here is legendary with only true experts tackling it. With a gradient of 70 per cent it is one of the steepest runs in Europe and not for the faint hearted.
Patscherkofel
A gondola ride up from the fairy-tale village of Igls, Patscherkofel hosted the downhill at both Olympic Games. Once at the top take a moment to enjoy the views over Innsbruck, the Stubai, Wipp and Inn Valleys, as well as over the towering peaks all around. Patscherkofel has an inviting choice of groomed and off-piste runs and some beautiful tree skiing. We tackle most runs including the Olympic run, where famous names such as Franz Klammer and Hermann Maier have skied to glory. We felt like legends ourselves, swooping down smooth slopes between ice-frosted trees to the base, where we caught the Olympia Express chairlift back up to do it all again. The seven chairlifts ring with English, German and Russian accents, but there are no queues and plenty of space on the runs. The Kinderland area at the bottom is perfect for children starting out – we watch as one little girl goes up to a big kangaroo statue and tries to look in its pouch. Very cute! We had a break feasting on Tyrolean dumplings at the Panorama Restaurant, accompanied by an Almdudler – a drink we had never heard of in Australia – and absolutely loved it.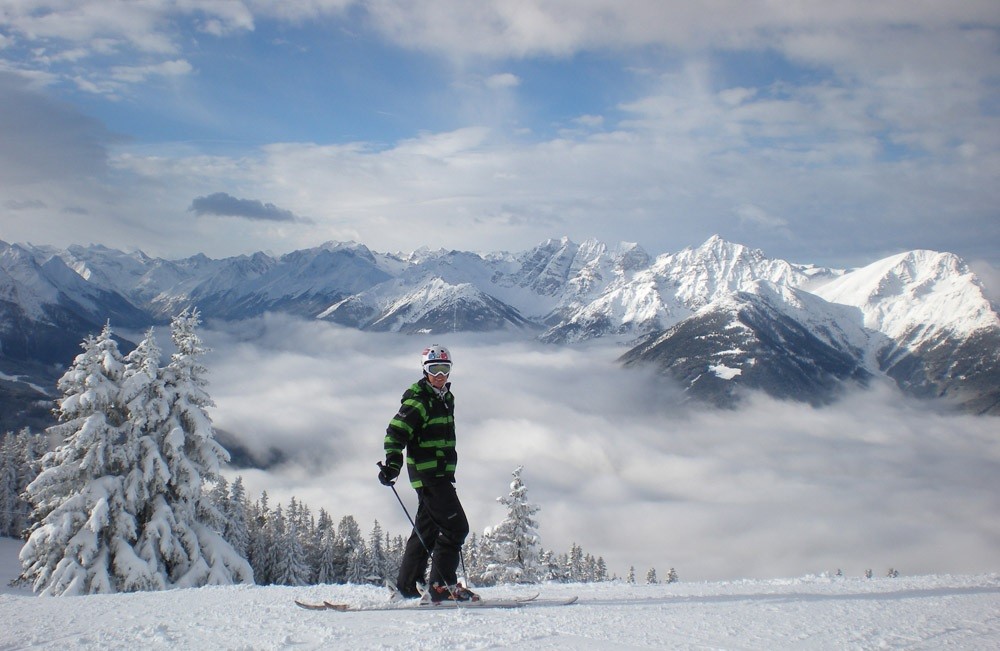 Axamer Lizum
Axamer Lizum, just 19 kilometres (30 minutes) from Innsbruck, is another Olympic venue and is striking with its rugged backdrop of dolomite cliffs softened by powder-topped slopes. A fire-truck red funicular glides up timber rails over the snow, its load of skiers spilling out at the top. This spectacular-looking resort is not just a pretty face, with a variety of runs to satisfy skiers and boarders of all levels. After all, Axamer Lizum did host all the Olympic alpine events except for the men's downhill, so it has some impressive credentials. Apart from the funicular, there are six chairlifts and three drag lifts giving access to 40 kilometres of slopes. Most runs are best suited to beginners and intermediates but there are some black runs for experts. There is 300 hectares of freeride terrain, an excellent snowpark, a racetrack (on Karleitenabfahrt) and you can even have your speed checked if you want to see how fast you are skiing or snowboarding downhill.
For lunch, take your pick of the architecturally striking Hoadl Haus at the top of the funicular, or the traditionally Tyrolanean Pleisenhutte. The Hoadl Haus has the biggest covered sundeck in Austria – a great way to rest up after a manic morning on the slopes.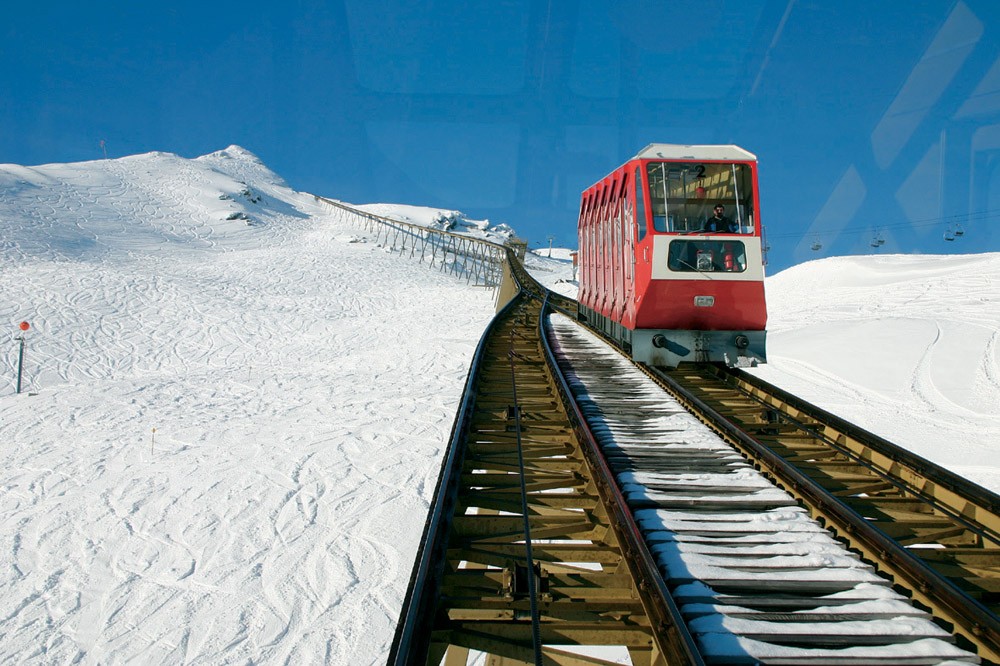 Muttereralmpark
Just ten minutes from Innsbruck, Muttereralm is absolutely perfect for families and can be accessed from the villages of Mutters or Götzens on modern eight-seater gondolas. With 16 kilometres of terrain to explore, there is plenty to keep visiting skiers and boarders busy for a day or two with the longest run a calf burning five kilometres in length. Kids who are just starting out or gaining confidence will love the area around the Mountain Station, while experts will head for the Pfriemesköpfel – often used by international ski and snowboard teams for slalom practice. New last season was the MAP 6020 Funpark, which was very popular with freestyling fans. The well thought out park has four areas for skiers and boarders of varying abilities, ensuring a safe environment and a great chain of progression. For lunch, try the Nockhof guesthouse at the mid station or the Muttereralm Restaurant at the summit lift station.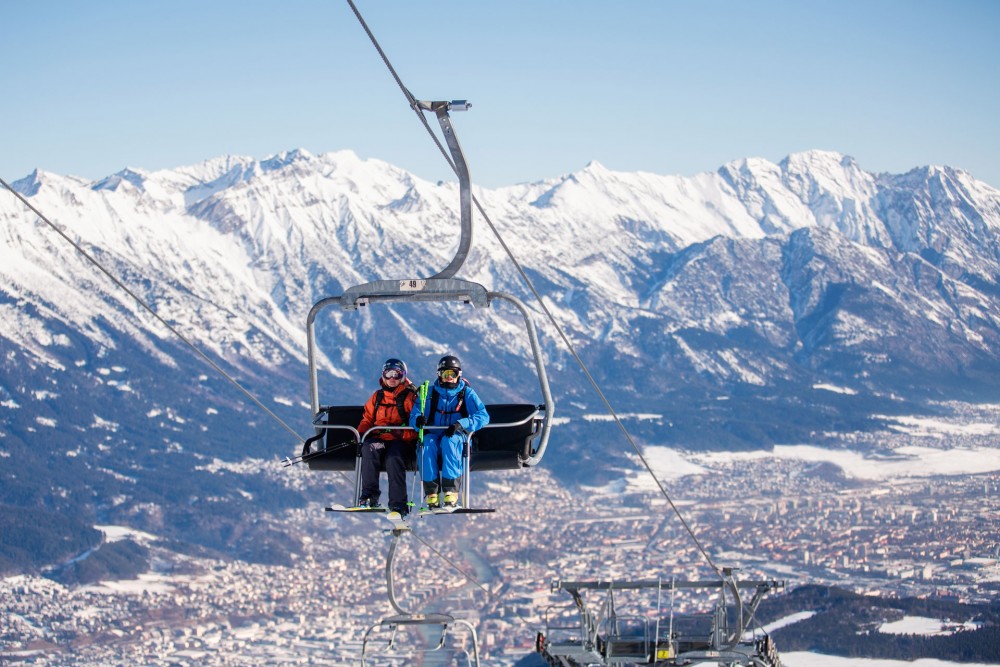 Rangger Köffl
Families love Rangger Köffl, a friendly, charming ski area 12 kilometres west of Innsbruck near the village of Oberperfuss. There are runs for all levels of skier or snowboarders with all enjoying wonderful views. The resort is served by a gondola and three t-bars, with a magic carpet and a Kids Park for the little ones starting out. One of the best places for scenic beauty is the Rosskogel Hut, a short ski down from the top of the Rangger Köffl chairlift. Located at 1780 metres, its homemade cuisine accompanied by stunning alpine panoramas will have you salivating. The Rosskogel Hut is also the starting point for one of Rangger Köffl's most popular attributes, a 10-kilometre long toboggan run. Keep your camera or phone handy as you will want to take some photos – if you can stop that is!
You can even toboggan at night, enjoy night skiing on Tuesdays and Fridays, go for a lantern walk or try snowshoeing – a wonderful experience under the star-lit skies.
Schlick 2000
Just 15 kilometres from Innsbruck Schlick 2000 is located in the Stubai Valley and creates a wonderful snow vacation for all levels of skier and snowboarder. The 21 kilometres of pistes allow plenty of fun for intermediate and advanced skiers with a gondola, two chairlifts – one heated! – and five drag lifts. The longest run is three kilometres long  –  one of the longest in the Stubai Valley. For freeriders and park lovers don't miss the Snowpark Schlick 2000 as well as the halfpipe in the Free Nature Park. You can even measure how fast you are going on the Pistenflitzer speed run.
Children are treated like VIPs at Schlick 2000 with the exceptional Big Family Kinderland beginners area for kids in the ski school. It has three magic carpets, two merry-go-rounds in the snow, a Tipi as well as slalom and trainings course that guarantee kids learn quickly, while having fun. Once the children are at home on skis, they progress to the Schanzlin training hill. Kinderland also caters for younger children from as young as three months old in the cosy indoor centre.
For other on-snow fun, try night tobogganing, the short ski tour trail – a great way to try this popular new activity – tackle the cross-country ski trail or pick and choose from 32 kilometres of winter hiking trails. For a long lunch in the sun, choose from the Sennjochhütte at 2,200 metres, the Schlickeralm or the Panorama Restaurant Kreuzjoch.
Glungezer
This charming resort is so likeable for its Tyrolean feel, with a friendly atmosphere and a slower pace. But when it comes to the skiing and snowboarding, it has a lot to offer,
including the longest run in the Tyrol – a knee crunching 15 kilometre run from the top of the Schartenkogel lift to the village of Tulfes down in the valley. With 22 kilometres of pistes, Glungezer has mostly intermediate terrain along with some beginner and a little advanced terrain off the Schartenkogel lift. There are two chairlifts and five drag lifts, and if you prefer cross country skiing, there are 40 kilometres of trails to tempt you.
One of the activities that locals and visitors love to do at Glungezer is klumping – sort of like toboganning but different in that the klumpers are more like stools that sit on a single runner. Be warned – they are not that easy to ride but are a lot of fun and great for some unforgettable photos. Afterwards, or for lunch, satisfy your hunger with a delicious meal at either the Gluckserhütte and the Tulfein Alm, which has beautiful views as well as delicious cuisine.
Kühtai
A 45-minute drive from Innsbruck and, at 2020 metres, this gorgeous village is Austria's highest resort town ensuring a sensational ski holiday. On both sides of the road, the snow-covered slopes reach skywards; highways to heaven whether you're riding up in one of the chairlifts, or skiing or snowboarding down from the heights. With the village tucked in the valley floor between the two mountain ranges, there is plenty of ski-in, ski-out accommodation ensuring you can make the most of the skiing action. With one gondola and five chairlifts, five drag lifts and a magic carpet for beginners, it is easy to move around the vast expanse on either side of the village. Our favourites were the run down from the Dreiseenbahn and the HochAlternbahn, but really, every bit of Kühtai is fun. The nightskiing is also excellent – on Wednesdays and Saturdays – and the K Park with its half pipe and a terrain park is so good it was used during the World Youth Olympics in 2012. The ski school for kids is superb, the snow playground is one of the best around, and the ambience is second to none. Your lift ticket also allows you to ski at Hochoetz – giving two resorts and 80 kilometres for the price of one. For lunch sit in the sun at Kaiser Maximilian hut, or choose the Jagdschloss , an historic hunting lodge now run as a hotel by Count Christian of Stolberg-Stolberg – the great-great grandson of Emperor Franz Joseph 1 and Empress Elisabeth of Austria.
Stubai Glacier
A 50-minute drive from Innsbruck, Stubai is the biggest glacier ski resort in Austria and with terrain that goes as hugh as 3200 metres, you will have unbelievable views over 100 peaks all over 3000 metres. It is astonishly beautiful. Apart from the views, the skiing and snowboarding is excellent with 26 lifts including the Rotadl – an eight seater lift with heated seats – giving access to 34 runs that range from easy to advanced. Children adore the Big Family Fun Slope and the learning environment in the Kinderland and Miniland areas as well as the kindergarten at the summit station ensures all kids are catered for with expert instructors and carers. At the other end of the spectrum advanced skiers and riders will love tackling the Stubai Zoo terrain park, the freeride terrain and the Downhill run, which has a gradient of 60%. To really test your legs, take the 10 kilometre run down from the Wildspitz top terminal to the base station.
Not just a one trick pony, Stubai offers more than just skiing with an ice climbing tower, the 200-metre-long Ice Grotto and the Top of Tyrol Observation Deck.
Next winter the brand new 3S Eisgrat Gondola will be operating. This high tech project will include new buildings at the base, middle station and top station of the cable car, with each car able to carry 32 people. It will be finished by the end of October 2016.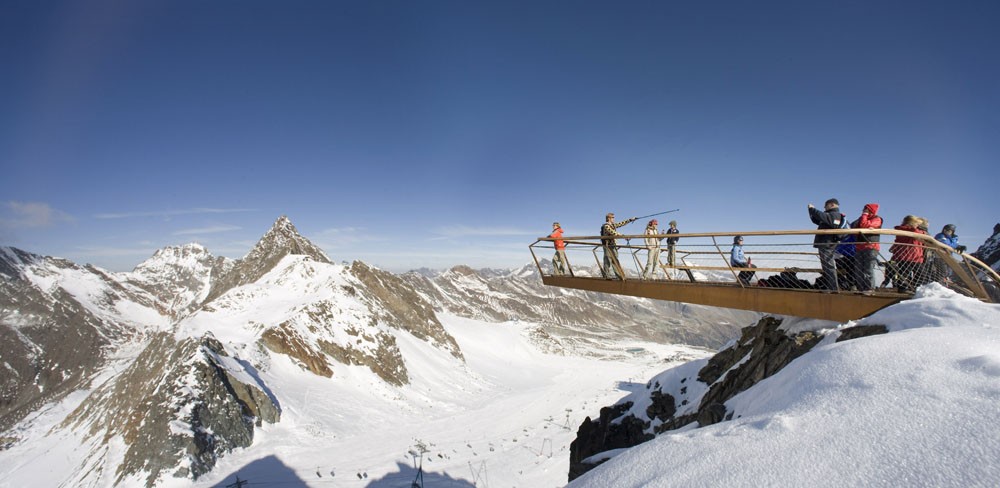 Tips
* Pick up an Innsbruck Card for access to many sights and attractions.
* Have a lesson or hire a private instructor. We used Wolfgang from Snowsport Igls as it's always a good idea to have someone who knows the ski resorts to show you around and give you a ski lesson at the same time. Wolfgang was excellent with the kids and great company.
Where to stay
In Igls, the Sporthotel is family owned and walking distance from the gondola to Patscherkofel.
In Kühtai, the AlpinLodges are ski-in, ski-out with modern amenities, such as a sauna, in spacious apartments.
In Innsbruck, stay at: The Hotel Grauer Bär, around the corner from the Congress funicular station. Also in Innsbruck, the NALA Individuell Hotel is a breath of fresh air with almost every room different. This boutique property is modern, bright and has all the comforts as well as a great restaurant.